FEATURES
The 'jsrsasign' library provides following features in pure JavaScript.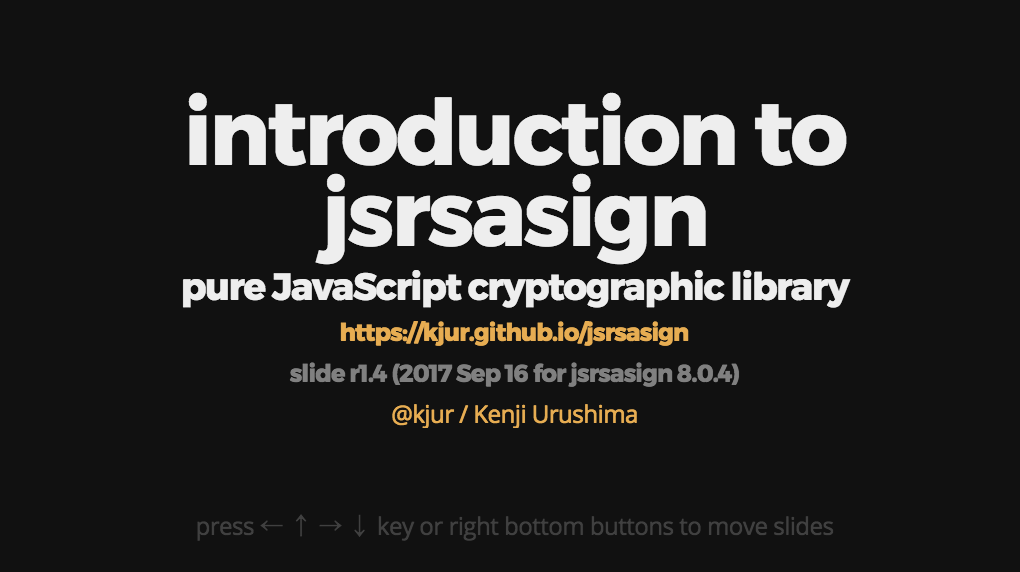 NEWS
2017-May-21:

2017-Mar-15:

2016-Nov-03:

2016-Sep-24:

2016-Sep-11:

2016-Sep-03:

2016-Feb-28:

2015-Nov-23:

2015-Nov-11:
Old news is here.
DOWNLOAD
Use git to clonse the official jsrsasign repository

git clone git://github.com/kjur/jsrsasign.git

Install from bower

bower install jsrsasign

Install from NPM

npm install jsrsasign

Alternatively, you can download a zip file for the latest development version or a previous releases.
See 'ChangeLog.txt' in detail. The 'jsrsasign'(RSA-Sign JavaScript Library) JavaScript API document is available here. The 'jsrsasign'(RSA-Sign JavaScript Library) is licensed under the terms of the MIT license reproduced which is simple and easy to understand and places almost no restrictions.
PROGRAMMING TUTORIALS
You can see the list of QUnit unit tests here and I hope they help you understand 'jsrsasign' library and APIs.
PROJECTS THAT USE JSRSASIGN
DEPENDENCY