Love jsrsasign? Please consider donating to sustaining this activity
FEATURES
The 'jsrsasign' library provides following features in pure JavaScript.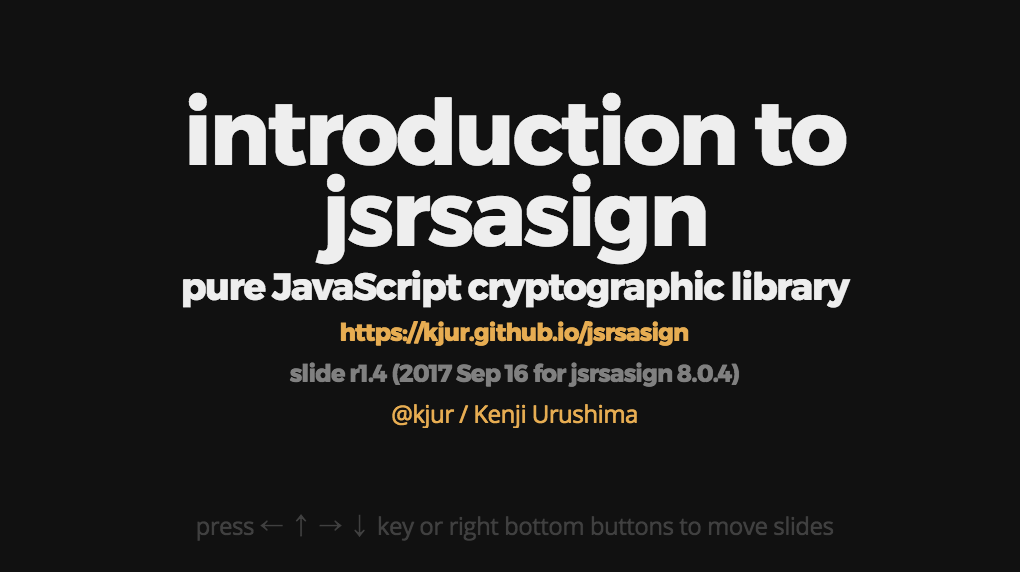 NEWS
2021-Jul-21:

Donation program for jsrsasign have been started. Love jsrsasign? Please consider donation to sustain this project.

2017-Jun-30:

Release 8.0.0 is now available. All deprecated methods, classes and files are removed and all-min.js file get smaller size.
Old news is here.
DOWNLOAD
Use git to clone the official jsrsasign repository

git clone git://github.com/kjur/jsrsasign.git

Install from bower

bower install jsrsasign

Install from NPM

npm install jsrsasign

Alternatively, you can download a zip file for the latest development version or a previous releases.
See 'ChangeLog.txt' in detail. The 'jsrsasign'(RSA-Sign JavaScript Library) JavaScript API document is available here. The 'jsrsasign'(RSA-Sign JavaScript Library) is licensed under the terms of the MIT license reproduced which is simple and easy to understand and places almost no restrictions.
PROGRAMMING TUTORIALS
You can see the list of QUnit unit tests here and I hope they help you understand 'jsrsasign' library and APIs.
DONATIONS
If you like jsrsasign and my other project, you can support their development by donation through any of the platform/services below. Thank you as always.
Github Sponsors
You can sponsor jsrsasign with the GitHub Sponsors program.
Cryptocurrency
You can donate cryptocurrency to jsrsasign using the following addresses:
Bitcoin(BTC): 34vSRe7XHoMy78HKgps9YJ5BrBLYJLeM22
Ethereum(ETH): 0x9c4cdbb531e5b84796ff5f91a9f652704761e64e
Litecoin(LTC): LPf3VDJVamwPcNJNjjVtrUQuJQ17ZyWzeU
Bitcoin Cash(BCH): bitcoincash:pq3hy08pc9vm57q6ddgsc06cqdffmfzwwqxd9yejyf